Our professionals can offer all the drain field services your property needs.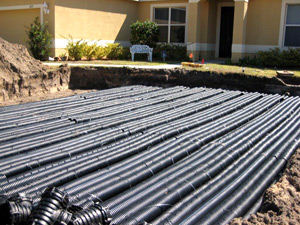 If you're responsible for maintaining the septic system on your property, you can't overlook the health and condition of your drain field. This area is the final destination for wastewater to flow after it leaves your septic tank, so if it isn't functioning properly, you could wind up with a smelly and unsightly problem on your hands. Fortunately, our experienced team here at Sauer Septic offers a full range of drain field services to ensure that your Sky Lake, Florida septic system stays in good working order.
Since 1980, we've been proudly helping commercial and residential clients alike with all their septic needs. Our drain field services include everything from installations to repairs to inspections, so you can always count on us when your drain field needs professional attention.
If you're not exactly sure how your drain field operates or why it's essential, we're here to help. In short, the drain field contains a series of perforated pipes where liquid wastewater can gradually seep out and get absorbed into the soil. Soil acts as a natural filtration system and further treats the wastewater before it can get absorbed into the groundwater. If your drain field can't handle the amount of wastewater being released from your septic tank, you could end up with pools of liquid waste above your ground, or it may seep into local bodies of water. This is why scheduling regular drain field services is crucial.
Whether you need someone to thoroughly inspect your drain field, provide necessary repairs, or install a brand-new drain field for a new septic system, we encourage you to give our team a call. With over four decades of professional experience in the septic industry, we're well-equipped to handle your toughest problems and answer any questions you may have.
To learn more about our drain field services, please contact us today.
---
At Sauer Septic, we provide high-quality drain field services in Orlando, Windermere, Winter Garden, Apopka, Clermont, Casselberry, Altamonte Springs, Eustis, Ocoee, Minneola, Mount Dora, Mascotte, Leesburg, Groveland, Gotha, Isleworth, Heatherbrooke, Sky Lake, and Tavares, Florida.