Our expert team offers irrigation drain field installations.
When it comes to the efficiency and condition of your septic system, you might not think about your drain field as often as your septic tank. The drain field consists of several perforated pipes buried beneath your lawn, and it's the final step of treating wastewater from your system.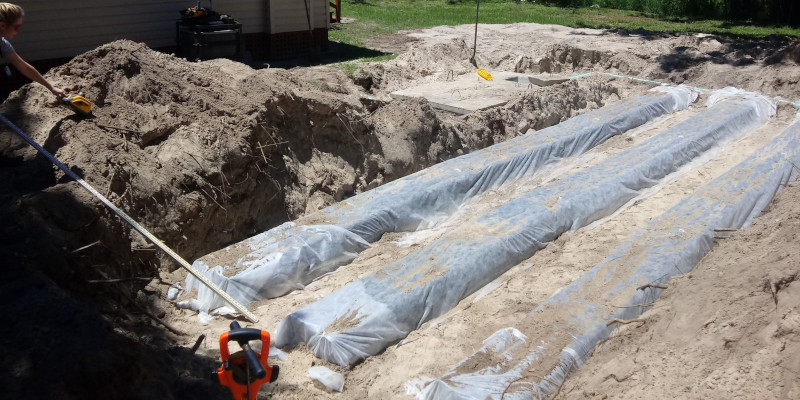 A standard drain field is designed to filter wastewater through the soil, removing potentially harmful bacteria or other contaminants. When irrigation drain field installations are done correctly, wastewater is gradually filtered through the drain field without causing backups or flooding the system.
Although it's possible to install a drain field on your own, it's highly recommended to contact a professional to handle this task. Poor irrigation drain field installations can cause wastewater to build up in your drain field, leading to foul odors in your yard or backups in your sinks or toilets. If you have children or pets, the last thing you want is sewage seeping up to the ground surface from your drain field, as this can pose major health hazards.
Whether you're building a new home or constructing a new commercial building, our team can provide reliable irrigation drain field installations throughout the Orlando, Florida area. Here at Sauer Septic, we have over 40 years of experience in this industry, so you can trust us to expertly handle any irrigation drain field installations in the region.
If you have any other questions about our services, please feel free to reach out to us for more information.
---
At Sauer Septic, we perform irrigation drain field installations in Orlando, Windermere, Winter Garden, Apopka, Clermont, Casselberry, Altamonte Springs, Eustis, Ocoee, Minneola, Mount Dora, Mascotte, Leesburg, Groveland, Gotha, Isleworth, Heatherbrooke, Sky Lake, and Tavares, Florida.