For all of your drain field repair needs in the Orlando, FL area, we are here to help.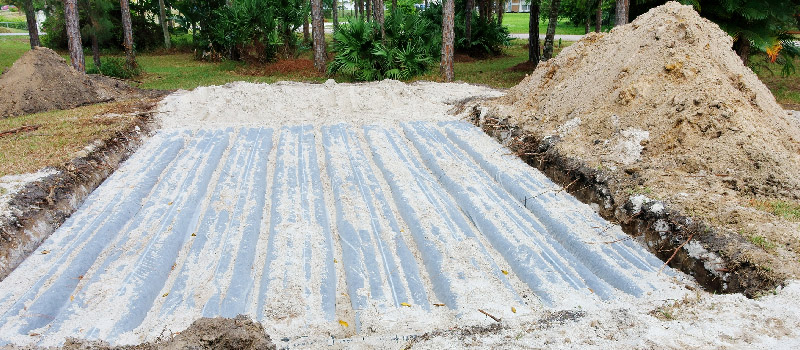 Drain Field Repair in Orlando – When your drain field starts to fail, your entire septic system is put at risk. This is why, once you start to notice something has gone wrong with this aspect of your septic system, it's essential that you get the problem taken care of as quickly as possible. At Sauer Septic, we are always ready and waiting to help you in your time of need and will get your drain field back up and run like it should be in no time.
3 Signs You Need a Drain Field Repair
When you have a septic system, you need to care for all the parts and components to keep it going– not just the septic tank. Many people forget about their drain field when it comes to septic care, not realizing that this is the last line of defense between their wastewater and the ground water. Keeping your drain field in good shape is crucial, and there are many signs that can warn you that a drain field repair is coming up. Here are a just a few of them:
Flooding/Wet Spots. It's normal to find a soggy lawn or wet spots after a rainstorm, but if you see flooding or wet spots on your lawn on a dry day, that's a problem that you might have in your drain field and will need a drain field repair. You can also watch out for grassy areas that are greener or lusher than other areas if you don't see flooding.
Foul Odors. Foul odors emanating from the area around your drain field can be an obvious bad sign. A normal septic system shouldn't smell like sewage when the wastewater is being treated properly, so foul odors are a problem.
Drainage Problems. Do your toilets need to be flushed multiple times? Are you noticing that your drains take forever to empty? Are they gurgling or bubbling? These are all signs that there is a problem in your system, and potentially a clog in the drain field.
If you are experiencing these or any other signs with your drain field, please call us here at Sauer Septic today a drain field repair!
During the drain field repair process, we won't simply guess about what's going on with your drain field and get to work fixing what we think is wrong. Rather, we will thoroughly inspect your drain field, determine what the cause of the problem is, and implement an effective solution. As we do this, we will rely on our extensive experience in the septic industry and our immense knowledge of drain field repair procedures.
If you would like to avoid unexpected drain field repair situations, we strongly recommend allowing our professional team to come and inspect your drain field on a regular basis. During your inspection, we will make sure your drain field is working effectively and efficiently and determine if there are any immediate repairs you should do.
The next time your drain field starts to malfunction, make the right choice and let us at Sauer Septic come and take a look at it. To schedule a time for service in the Orlando, Florida area or to find out what sets our operations apart, please don't hesitate to reach out to us today.
---