Our drain field installation services in Orlando, FL are complemented by excellent rates and unparalleled customer service.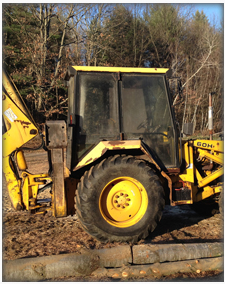 Drain Field Installation in Orlando – At Sauer Septic, we take special care when we work on drain field installation projects in the Orlando, Florida area. We recognize that without a fully functional drain field, the septic system will be ineffective, so we make sure that every step involved with the installation process is completed with excellence and precision.
Protecting the environment that surrounds us is always very important to us. Due to this, while we determine the right location for a new drain field, we always make sure that the soils will be able to properly treat the incoming wastewater and take into account any nearby underground water sources or streams.
To make things as easy on you as possible, we make sure that all proper permits are acquired before we get started with the drain field installation process. We also make sure that we meet all state and local requirements associated with drain fields to prevent future issues with this aspect of the septic system.
Once we complete your new drain field, we hope that you will keep us in mind for all of your drain field inspection, repair, and maintenance needs. As a full-service septic company, we are committed to making sure that your drain field and the other aspects of your septic system work properly at all times.
To receive an estimate for your upcoming drain field installation project, please give us a call at Sauer Septic today. As a locally owned and operated business, we genuinely care about your complete satisfaction.
FAQs About Drain Field Installation
With over 40 years of experience in the septic industry, our team at Sauer Septic is one you can count on to help you with any septic problem you may be having. Whether you need routine tank pumping, emergency repairs, or anything else, our experts are here to provide the solutions you need. One of our many services is drain field installation, and we have assembled some of our most frequently asked questions on the subject below.
How can I tell when it's time to have a new drain field installed?
If your drain field is nearing the end of its lifespan, you can expect to see a variety of problems. You will likely experience sewage backups into your drains, and with them smell a strong odor of sewage in your home and/or yard. Other warning signs that your field is failing can be found on your lawn in the form of standing puddles, or dead or unusually healthy grass, all of which indicate that the field is leaking. If you notice any of these things happening to your property, don't hesitate to give us a call to arrange for drain field installation.
Can I install my own drain field?
While you technically could install your own drain field, it's much easier to let experts like ourselves handle this process for you. It will also give you greater peace of mind, as our experienced experts have completed countless drain field installations and know how to make sure every part is installed correctly so that it safely and effectively filters liquid waste, protecting both you and the local water supply.