We can diagnose potential problems with your drain field when you let us perform a drain field inspection in Orlando, FL.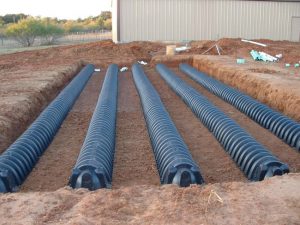 Drain Field Inspection in Orlando – If your drain field were ever to malfunction, it could threaten the overall functionality of your entire septic system. For this reason, you likely make it a priority to do whatever you can to ensure the functionality and efficiency of your drain field at all times. If you suspect that something's wrong with your drain field, or you simply want to prevent avoidable issues with it, contact us at Sauer Septic to schedule a drain field inspection.
During every drain field inspection we perform, we inspect the area thoroughly and look for warning signs of failure. We then determine what can be done to rectify potential issues before they develop into problems that threaten the septic system as a whole. We will follow a similar process when we look at your property's drain field, and answer any questions you might have about maintaining it while we are there.
Although having us come to your property in Orlando, Florida regularly to inspect your drain field is a beneficial way to preserve its functionality, there are things you can do on your own to ensure it continues to work like it should. For example, you should avoid parking heavy objects on top of it and do your best to conserve water in your home.
To schedule your next drain field inspection or to find out more about what the inspection process entails, contact us at Sauer Septic today. We are committed to providing you with friendly, professional service at all times.
Drain Field Inspection FAQs Section
A drain field is an essential part of your entire septic system. While most people tend to focus on the health of their septic tank, the drain field is equally important and equally in need of care and maintenance. A drain field inspection is a great step in preventative care for your drain field. We get a lot of questions at Sauer Septic regarding drain field inspections and wanted to take the chance to address some of them here.
What happens during a drain field inspection?
During a drain field inspection, we are able to give an in-depth and comprehensive examination to your drain field. We will look for signs of a healthy drain field or areas that need repairing.
What will happen if I need a repair?
If you need a repair, we can take care of it. Depending on the size and scope of the
repair
, we may need to come back at another time to complete the repairs.
How do I know if there's a problem with my drain field?
Drain fields need to distribute the remaining effluent water for final filtering through the ground water. If there is a problem, then likely you will see standing water, smell foul odors or notice patches of thick, lush grass growing over your drain field.
What can I do to protect my drain field?
Avoid parking, planting or building anything over your drain field. This is the best thing you can do to protect this area.
If you have other questions or would like further information regarding these questions, please give us a call today.
---