Some of the drain field services we provide include inspections, installations, and repairs.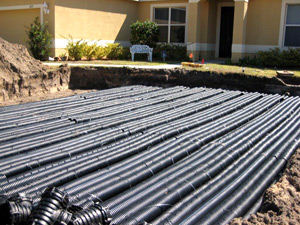 Your drain field is one of the most critical components of your septic system. Here, wastewater from your home makes its final stop and is naturally absorbed into the ground. As a locally owned and operated company that's been around since 1980, we are here to help you maintain the efficiency and functionality of your drain field with our drain field services.
We here at Sauer Septic understand that taking care of your septic system doesn't just stop with taking care of the septic tank, but offering drain field services as well for the best in care. We offer a variety of drain field services in the Orlando, Florida area, including:
Installations. When you are looking for the best in installation, our team here at Sauer Septic is ready and able to help you! Because of our decades of experience, we can give you the best results when it comes to drain field installations. Drain fields need to be installed in a certain manner and also in careful relation to the septic tank in order to facilitate the proper flow of effluent through the system. When you have an uneven grade, many trees on your property, or other potential hang-ups, we can maneuver and come up with solutions to even your most complex of drain field installations.
Inspections. Your drain field is the more fragile part of your septic system. Your tank is solid and buried underground, built to hold materials in. The drain field, on the other hand, is not buried nearly as deep, is perforated to allow for drainage, and can be damaged somewhat easily. With our inspections, we can look for common issues like tree roots, collapsed or breaking pipes, or clogs that can be causing problems in your system. We can use our experience and skills to quickly find and repair any issues.
Repairs. As mentioned above, there are many things that can cause damage to your drain field. Whether it was an accidental problem or issues caused from neglect to the drain field, our repairs are swift, efficient and effective when it comes to repairs. We use all skills as well as our industry tools to ensure the best results for your drain field repairs.
Whether you are worried that something has gone awry with your drain field or you need to have a brand new one installed on your property, you can rest easy knowing that we will provide you with commendable service.
Our drain field services are based on the belief that providing trustworthy, professional service is the only way to run our business. When you turn to us, we will thoroughly inspect your drain field, provide accurate recommendations, and charge you a rate for service that is fair and competitive. However, arguably the best part about our drain field services is that no job is too large or too small for our highly capable, well-trained team to handle.
Please contact us at Sauer Septic today for more information about our drain field services, what sets them apart, and what they entail. As a premier provider of septic services, we are eager to earn your business and look forward to hearing from you.
---
Helpful Drain Field Information
Our drain field services are second-to-none!
I highly recommend this company.
"We had our drain field and a concrete lid replaced on our septic system. The guys were very professional and had the work completed in a timely manner. A year later, our septic system is still working beautifully. Quality work and budget friendly. I highly recommend this company."
★★★★★ Jenn G
Similar Services We Offer: