You can expect thorough answers to your questions and detailed drain field repairs that truly address the problem in Ocoee.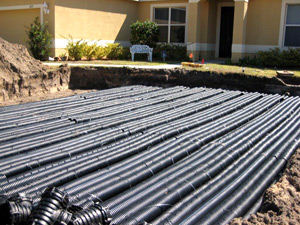 When you have a drain field malfunction, the first thing you may feel like doing is panicking. Fortunately, our team at Sauer Septic can assist you whether you have a minor drain field issue or a major drain field concern at your property in Ocoee, Florida. When you work with our experienced team, you will find that we are equipped not only to inspect your drain field for the source of the problem but also to provide expert drain field repair solutions to get your septic system back on track.
At Sauer Septic, we believe that our customers should never be left guessing about the quality of the drain field repair they receive or the functionality of their septic system as a whole. If you have concerns about your septic drain field and have called us in for drain field repair, you can expect thorough answers to your questions and detailed repairs that truly address the problem at hand. We understand how much you rely on your septic system each day at your home or business, and we'll always work to make sure your septic tank, drain field, and any other components are working their best.
If you would like to schedule a drain field inspection or believe you may need a drain field repair, don't hesitate to give us a call at Sauer Septic for the services you need. We have been providing our customers with comprehensive septic services for over 30 years, and as a locally owned and operated business, we'll work with you at every step to achieve your septic system goals. Call us today to get started.
---