The best way to keep your septic system working well is to schedule a drain field inspection in addition to regular septic pump-outs in Ocoee.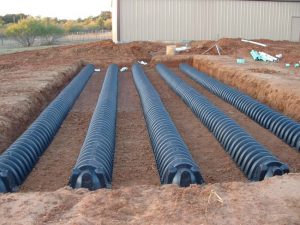 Your drain field is just as important for the functionality of your septic system as the other components like your septic tank. When your drain field malfunctions, it can threaten your septic system, your property and your home or business in Ocoee, Florida. The best way to preserve and protect your drain field, septic system, and property is by having our team at Sauer Septic complete a drain field inspection on a regular basis.
During our drain field inspection, we'll not only look for signs of potential problems, but we'll also work to address any potential concerns before they become major issues. We can also make recommendations for the best way to maintain your drain field in between drain field inspections, so it continues to provide long-lasting effectiveness for your property throughout the year.
At Sauer Septic, we believe that caring for your drain field just like you would your septic tank is the best way to keep your entire septic system working its best. In addition to routine drain field inspections and septic pump-outs, you may find that not leaving heavy vehicles or equipment on top of your drain field and avoiding planting trees and shrubs in this area will help to preserve and protect this important septic system component.
If you need to schedule a drain field inspection or routine septic cleaning at your home or business in Ocoee, contact us at Sauer Septic today. We are locally owned and operated and have over 30 years of experience assisting our customers with their septic servicing needs. Contact us today to learn more!
FAQs About Drain Field Inspection
Our team at Sauer Septic wants to help you keep your septic system in excellent condition, and that includes the drain field. Below, we go over the answers to a few of our most frequently asked questions about drain field inspections to give you an idea of what to expect.
What does a drain field inspection involve?
A thorough drain field inspection is a pretty involved process, as it involves exposing the entire drain field so each part can be examined directly. Our team will take care of all the excavation, then we'll inspect each piece of your drain field to assess its condition. We'll then make any necessary repairs and take care of the cleanup process for you.
How often should I get my drain field inspected?
In general, we recommend scheduling drain field inspections every three to five years. It's wise to get your septic system checked more frequently than that at about every one to two years, but you should also schedule a more thorough inspection for your drain field in between standard inspections. In addition, you should also get your drain field inspected right away if you suspect there is a problem with it.
What are some signs my drain field is failing?
One of the most common signs your drain field is failing—and that it therefore needs to be inspected—is the presence of wet, soggy patches on your lawn. If you notice puddles in your yard that never seem to dry out, then it's likely your drain field has a leak. In addition, you should also schedule a drain field inspection if patches of your lawn start to become unusually green and lush, as this is often a sign that the grass is being fertilized by a greywater leak.