Take care of your drain field with our expert drain field services.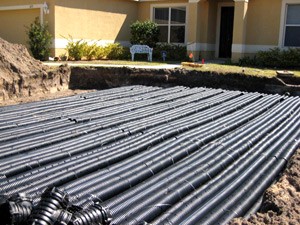 Do you have a septic system? Many properties in the Minneola, Florida area have them. A septic system works as parts of a whole, with the most notable part being the septic tank. However, there are other parts of your system, such as the drain field, that are equally important to the treatment of your wastewater. Whether you have a commercial or residential property in the Minneola area, our team here at Sauer Septic is able to assist you with all your various services that you need, including beneficial drain field services.
Your drain field is an integral part of your septic system. With a network of tubes and drainage, your drain field takes effluent water and distributes it so that the effluent can be further filtered through the ground and eventually rejoin the groundwater. Because of the importance of this last step of water treatment in the septic system, drain field services installed and maintained by our septic professionals at Sauer Septic are essential to the health and safety of your septic system.
We offer a variety of drain field services to ensure that your drain field is always functioning properly and efficiently. Some of our drain field services include things like drain field maintenance where we check for broken or clogged piping. Other drain field services include services such as installation of a new drain field, adding onto your drain field, and repairs. These services help to ensure that the groundwater around your property is safe and clean. If you would like to learn more about our drain field services, please give us a call today here at Sauer Septic.
---
At Sauer Septic, we provide high-quality drain field services in Orlando, Windermere, Winter Garden, Apopka, Clermont, Casselberry, Altamonte Springs, Eustis, Ocoee, Minneola, Mount Dora, Mascotte, Leesburg, Groveland, Gotha, Sky Lake, and Tavares, Florida.
Similar Services We Offer: