If you suspect you may need drain field repair, call our experts at Sauer Septic.
The drain field is a critical component in the functionality of your entire septic system. A problem with the drain field may lead to problems with the entire system. How do you know if you are in need of drain field repair? If you suspect there is a problem, it is always safest to call us at Sauer Septic for a drain field inspection, but there are several key signs to watch for: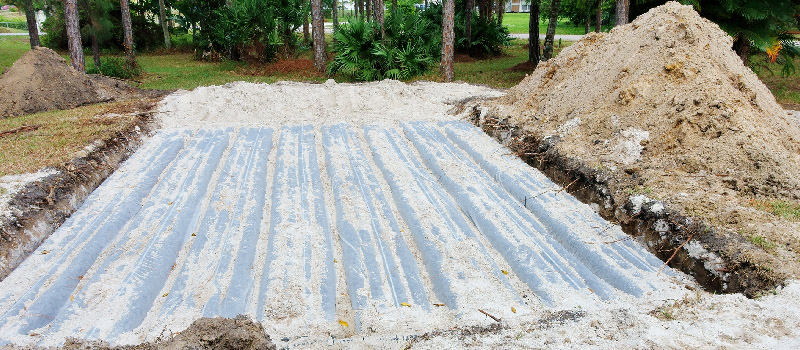 Slow draining – If all of your toilets, sinks and tubs are draining slower than usual, it could indicate a problem with backup.
Spongy grass over the drain field area – Excess water in the grass may indicate a cracked pipe or a clogged drain field.
Bright green grass – When water is draining faster than it should, excess nutrients are delivered to the area resulting in bright green grass or excess plant growth, making it another indication that you may need drain field repair.
Unusual odors – If there are any sewage or waste odors in the drain field area, you should call for an inspection right away.
When you think you have a problem, call us at Sauer Septic for drain field repair for your septic system. We will send a highly trained and knowledgeable technician to assess the situation, and then we can get straight to work on making necessary repairs in order to avoid bigger problems. Our extensive experience allows us to handle any jobs necessary for your septic system, no matter how big or small. We are also proud to carry a strong reputation of great customer service that you can count on. Call us today for expert drain field repair in Leesburg, Florida.
---
At Sauer Septic, we provide high-quality drain field repair services in Orlando, Windermere, Winter Garden, Apopka, Clermont, Casselberry, Altamonte Springs, Eustis, Ocoee, Minneola, Mount Dora, Mascotte, Leesburg, Groveland, Gotha, Sky Lake, and Tavares, Florida.