We provide all the essential drain field services you need to keep your drain field in excellent condition.
Every aspect of your septic system is important, but the drain field is one of the critical elements that is easy to overlook if you're not careful. Since it's the final stop for wastewater before it reenters the natural environment, your drain field needs to be carefully cared for to ensure it's functioning properly. At Sauer Septic, we provide all the essential drain field services our customers need to keep their drain fields in excellent condition, and we'd be happy to assist you with caring for yours.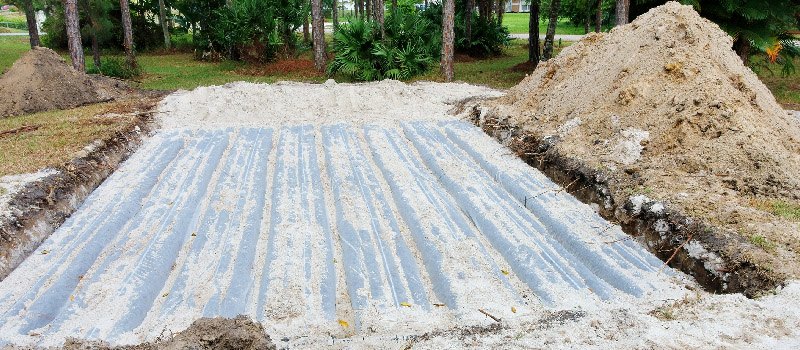 We've been in the septic services business since 1980, so we're more than familiar with drain fields and how to care for, repair, and install them. Whether you need drain field services for your home or business, we have the required skills and equipment and will make sure everything is operating as it should be.
Our team is proud to provide a range of drain field services, including:
Installations– If you're installing a new drain field, our team will carefully assess your property to determine the best location and install it with care and precision.
Inspections– Getting routine inspections is the best way to prevent major problems, and our technicians can recommend the best inspection schedule for your unique system.
Repairs– We're prepared to handle and provide solutions for all kinds of drain field problems, including overloading, clogs, compaction, infiltrating tree roots, and much more.
Replacements– When it's time to replace your old drain field, you can count on us to install the new one and make sure everything is compatible within the complete septic system.
If you're in Isleworth, Florida and searching for a dependable, experienced company to handle all your required drain field services, look no further than us. Reach out today to learn more or ask about getting a quote for a service.
---
At Sauer Septic, we provide high-quality drain field services in Orlando, Windermere, Winter Garden, Apopka, Clermont, Casselberry, Altamonte Springs, Eustis, Ocoee, Minneola, Mount Dora, Mascotte, Leesburg, Groveland, Gotha, Isleworth, Heatherbrooke, Sky Lake, and Tavares, Florida.