We can help make sure your septic drain field is functioning well with a thorough inspection.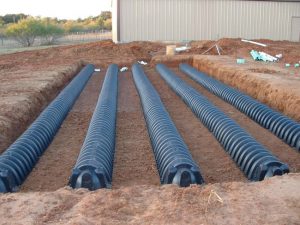 The septic system is one of your home's most important components, as removing wastewater is a necessity. Making sure your septic system is in good working order can prevent unexpected issues from popping up. There are several important parts of your septic system, and the drain field functions to allow effluent and wastewater to leach out safely to be absorbed back into the ground.
Having a drain field inspection can identify any issues with your drain field that can be indicative of a problem or cause other issues further up in your system. At Sauer Septic, we perform drain field inspections for many reasons, including:
Inspection before purchasing a home to assess the health of the septic system
Yearly inspection to keep a good eye on how things are functioning
Noticing a foul odor near your septic tank and drain field area
Seeing especially green vegetation on your septic drain field that can indicate a blockage or a leak
Noticing saturated, soggy, or muddy ground over your drain field
To determine the health of an older septic system as it ages
Having issues with slow drains or backups
A sunken drain field that can indicate parts have collapsed
If you are noticing any of these issues or are looking to see how well your septic system and drain field are functioning, a drain field inspection is a wise choice. We know how important the efficiency of your septic system is for your home, and we take it very seriously. We are licensed and insured and have been in business since 1980, so you can be assured that we have the knowledge and experience to take care of all your septic needs. Please give us a call if you are in need of a drain field inspection for your Gotha, Florida home or business. We will meet your needs, and when we come out, we will provide some tips on how to help maintain the health of your drain field. Reach out to us today to see how we can help keep your septic system running well!
---