If you notice a problem, drain field repair is critical to the proper functioning of your septic system in Clermont.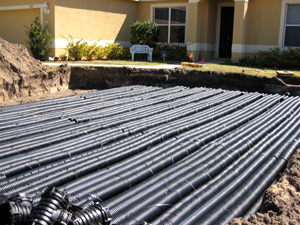 When you think of your septic system, the drain field is probably the last thing on your mind. It's easy to schedule septic tank cleaning and keep your system working its best from the inside out. But when you start to notice problems outside your home or business in Clermont, that's when you need an experienced team to inspect your drain field and complete repairs if needed.
Drain field repair is critical to the proper functioning of your septic system, and at Sauer Septic, we can give you peace of mind when you are experiencing problems with your septic system. While routine inspections and septic cleaning help keep your system in good working order, sometimes unexpected things happen or your drain field needs repairs and replacement. There are a few problems you should be aware of that indicate you may need drain field repair, including wet spots on the grass above your drain field location, odors outside in your yard or public areas, and backed-up plumbing that doesn't seem to have a solution. If you notice any of these problems, we'll come out right away to complete a drain field inspection and complete the necessary repairs, so your septic system is working properly again.
If you suspect you need drain field repairs or if you aren't sure about the last time you had septic tank pumping or inspections, contact us at Sauer Septic today to schedule an appointment. We will work to address issues, help prevent future concerns, and provide you with a safe, clean environment at your home or business in Clermont, Florida.
---
At Sauer Septic, we provide high-quality drain field repair services in Clermont, Windermere, Eustis, Orlando, Ocoee, Winter Garden, Apopka, and all of Central Florida.