When we see a problem during a drain field inspection in Clermont, we immediately create a plan for repair to minimize and lessen the damage as much as possible.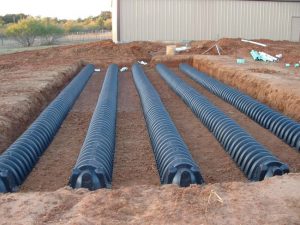 One of the best ways to ensure that the drain field of your septic system is in good working condition is to schedule a drain field inspection with a knowledgeable and experienced technician. Some property owners think that they can inspect the components of their septic systems to make sure there aren't any problems on their own, but most people don't really know what to look for or what might indicate that a potential problem is coming down the pipeline, so to speak.
At Sauer Septic, each of our staff members is experienced in septic system work and knows exactly what signs indicate a bigger problem. For example, you might not realize it, but a leak in the drain field could mean that contaminated water is seeping into the ground below, putting you, your family members, and your neighbors at risk. But when we see something like this during a drain field inspection, we immediately create a plan for repair to minimize and lessen the damage as much as possible.
A drain field inspection done by our team at Sauer Septic helps protect your property from potential damage. We offer drain field inspection services, along with a variety of other septic services, to those in and around Clermont, Florida. We have more than 35 years of experience in the septic industry, so you can rely on our company to do the job right and keep your system working properly. Our team is available for all types of jobs, so call us today to find out how we can help you manage your septic system.
FAQs About Drain Field Inspections
Our team at Sauer Septic wants to help you keep your septic system in good working order, and one of the ways we do that is by providing accurate, reliable inspection services. Below, we have put together the answers to some of our most frequently asked questions regarding our drain field inspection services to help you know what to expect from these services.
What's involved in a drain field inspection?
If we are inspecting your drain field for the first time, we will first locate the drain field by inserting a rod into the ground at regular intervals—once we hit gravel, we'll know that we've found the drain field. From there, we will determine the drain field's size and exact location, taking note of the measurements for future reference. After that's done, we will check the level of standing water in the drain field, making sure that the liquid does not rise above the gravel bed or approach the top of it, as both indicate that the field is not doing its job correctly.
When should I get a drain field inspection?
You should get a drain field inspection as part of an overall septic inspection before you buy any property with a septic tank, as the last thing you want is to settle into your new home, only to get a nasty surprise. In addition, you should get periodic septic inspections to make sure everything is working properly—we recommend doing so at least once every three years. Also, if you ever suspect that there is a problem with your drain field, you should have it checked out as soon as possible.