We offer a variety of preventive and maintenance drain field services to customers in Clermont.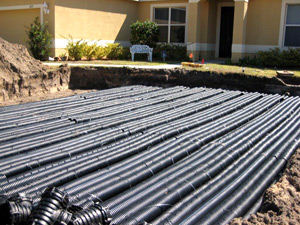 When you have a septic system on your property, the water and waste that move through the drains in your home go through plumbing and into a concrete tank that is buried beneath the ground. Here it receives treatment and allows the clear liquid to move to the top of the tank and out through the other side, where it goes into the drain field. A drain field is a set of pipes with perforations in them, often buried within gravel. You may not realize it, but the drain field is actually the most valuable component within the septic system. When it's working properly, it filters water before it can go back into the soil. But if there is a crack or leak in the drain field, the water coming from your septic tank could cause serious damage to the environment on and around your property.
One of the problems with septic system ownership is that many people don't realize when there is a problem until it's too late. For this reason, we offer a variety of preventive and maintenance drain field services to customers in Clermont, Florida and many of the surrounding cities. Our technicians will come to your property and assess the condition of all components of your septic system. This allows us to determine whether you might need drain field services due to a potential problem with the system.
Call us today at Sauer Septic to learn more about the drain field services we offer or to schedule a time for service.
FAQs About Drain Field Services
Our team at Sauer Septic wants to help you keep your septic system in great condition, and one of the ways we do that is by providing top-notch drain field services. Below, you can find the answers to some of our most frequently asked questions on the subject.
How do drain fields work?
After liquid waste passes through your septic tank, it flows into your drain field, which is a network of pipes and filters that is designed to treat the wastewater and let it seep back into the soil. The filters in the drain field, as well as beneficial bacteria present, kill off any harmful pathogens before the water is safely returned to the ground.
What kinds of problems can affect my drain field?
One of the most common problems that can affect your septic drain field is too much water flowing into the pipes, which can cause the drain field to flood. If this is happening to your drain field, the issue may not be obvious right away, and may show itself in indirect signs such as sewage backing up into your home or patches of your lawn getting noticeably greener because they are being fertilized by the waste. Our team is here to provide the drain field services you need to correct these issues as quickly as possible and return your system to good working order.
What can I do to keep my drain field in good condition?
While you should always have your drain field inspected regularly, there are a few things you can do to avoid the need for more extensive drain field services. First, never plant trees or shrubs—or anything but grass—above your septic tank or drain field, as the roots of these plants can damage your system. Second, do not drive or park cars over your drain field, as the pipes are located fairly close to the surface and can break under the weight. Third, do not build sheds, gazebos, or other structures on top of your tank or drain field, for the same reason.
---
At Sauer Septic, we provide high-quality drain field services in Orlando, Windermere, Winter Garden, Apopka, Clermont, Casselberry, Altamonte Springs, Eustis, Ocoee, Minneola, Mount Dora, Mascotte, Leesburg, Groveland, Gotha, Isleworth, Heatherbrooke, Sky Lake, and Tavares, Florida.
Similar Services We Offer: