Every homeowner should know the signals that drain field repair is required.
The requirement of a drain field repair is one that can easily sneak up on you without prior warning. It can also be difficult to determine that your drain field is in need of professional attention if you don't know the warning signals.At Sauer Septic, we believe every homeowner who utilizes a septic system should know the signals that the septic drain field component needs attention.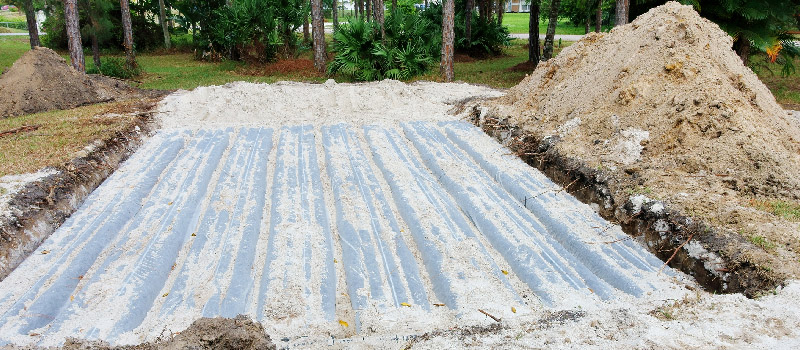 Here are a few of the signs to pay attention to:
When you walk through your yard, you notice there are wet places in the grass over the drain field or the grass is greener at this location than other areas of your yard.
There is a foul odor coming from the drain field location, but there is no immediately recognizable cause.
The drain field has trees and shrubs planted on or near the area and you aren't sure how deep the root structures go.
Heavy equipment or machinery has recently been driven or parked on top of the drain field.
A great way to avoid the need for unexpected drain field repair is to make sure you have a full inspection with every routine septic tank cleaning appointment you schedule. When you talk with our technicians at Sauer Septic, we'll always make sure to give a full report on the condition of your septic system as a whole, including the drain field.
If you have questions about your drain field or believe you need drain field repair in Apopka, Florida, make your next call to us at Sauer Septic for the solutions you require.
FAQs About Drain Field Repair
If you are still becoming familiar with your home or business' septic system, you might not know a lot about your drain field other than that it plays an essential role in the wastewater treatment process. We understand that you may have questions for us, so we have provided answers to a few frequently asked questions about drain field repair. Check them out below and contact our team if you have additional questions.
What are some less obvious signs I need drain field repair?
Aside from bright green and spongy grass, standing water, or odors in your drain field, you can be alerted to drain field problems if you notice sewage odors, slow drains, gargling plumbing sounds, or problems flushing toilets inside your home or business. These issues don't necessarily prove you need drain field repair, but they can be helpful signs if you haven't noticed anything out of the ordinary when you visit your drain field.
Do drain field problems need to be repaired right away?
Yes, drain field repairs should be conducted as soon as possible to prevent further damage or hazards to human health. Postponing repairs can be disastrous, leading to backups or groundwater contamination in extreme cases, but our team will respond to your needs promptly.
Why should I trust you to provide drain field repairs?
Not only are we licensed and insured professionals, but we are also a septic company that has been around since 1980. We have gained lots of experience repairing drain fields over the years, and we're proud to have many satisfied customers who continue to trust our expertise whenever they need septic services.