If you are in search of quality drain field services in Apopka, contact us at Sauer Septic.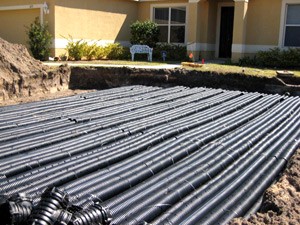 Your septic system is made up of several components, and each is important to the overall function of the system. The drain field is one of these necessary components, and it requires professional services to keep functioning properly. At Sauer Septic, we are happy to provide quality drain field services for our customers in Apopka, Florida.
Our team is able to complete a variety of drain field services, like inspections, repairs, installations, and more. We will find the source of the issue with your septic system and do everything necessary to fix it. No matter if the job you need done is a small repair or large installation or replacement, we are the team to call.
When you work with us at Sauer Septic, you can trust you are working with the best, most knowledgeable team in the Apopka area. Our drain field services will ensure this aspect of your septic system continues to work reliably.
Whether your drain field needs repairs or complete replacement, our team has the knowledge and experience needed to make it happen. As a locally owned and operated company, we strive to offer personal but professional drain field services, so our customers are confident and comfortable working with us. Our customers are very important to us and have helped us establish and build our business since 1980. We believe in giving back with reliable services. Contact us today to learn more about our drain field services, and we'll be happy to help!
FAQs About Drain Fields
Drain fields are not a new invention by any means, but we understand that many people may not be familiar with them. If you have a septic system at your home or business for the first time, we're here to make sure you understand the basics, including everything you need to know about drain fields. Check our frequently asked questions below to learn about drain fields.
What are drain fields?
The drain field is a vital component of your septic system. It has several perforated pipes, which are designed to release wastewater without letting solid waste out. After the wastewater is released, it filters through the soil for treatment by way of natural processes. Then the treated water enters groundwater.
What is the difference between a drain field and a leach field?
Drain fields and leach fields are actually the same thing, so these terms are used interchangeably among septic professionals and property owners who have septic systems.
What drain field services are necessary to make my system last?
As with any system, your septic system needs regular maintenance to remain in excellent condition. We recommend scheduling drain field maintenance every few years. While we maintain your drain field, we will inspect it for issues such as pooling or pump problems (if you don't have a gravity-fed septic system).
What are some common signs of drain field problems?
You can be fairly confident you need drain field services if you notice standing water, sewage odors, or bright green and spongy grass in your drain field.
---
At Sauer Septic, we provide high-quality drain field services in Orlando, Windermere, Winter Garden, Apopka, Clermont, Casselberry, Altamonte Springs, Eustis, Ocoee, Minneola, Mount Dora, Mascotte, Leesburg, Groveland, Gotha, Isleworth, Heatherbrooke, Sky Lake, and Tavares, Florida.
Similar Services We Offer: