Our drain field repair services are offered to customers in Windermere and surrounding cities.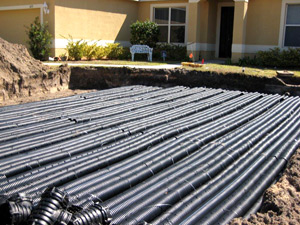 Drain Field Repair in Windermere – If any part of the drain field for your septic system stops working, it can cause bigger issues throughout the entire system. Some of the common signs that you may need drain field repair include odors coming from around the tank, toilets that are slow to flush or drain, backup from a drain or toilet in your home, and wet spots on the ground near the drain field. It is often hard to know exactly where the problem has occurred when you have a septic problem, so if you do notice any of these issues, contact our team at Sauer Septic as soon as possible.
Drain field repair is something that should never wait for regular business hours, which is one of the reasons why we offer 24-hour emergency service 7 days a week. No matter what time of the day or night you encounter a septic problem, we are here to assist.
Our drain field repair services are offered to customers in Windermere, Florida and many of the surrounding cities. When you call us for drain field inspection, we will come right out to pinpoint the exact location of the problem. If our technicians determine that the issue is occurring in an area other than the drain field, we can fix that, as well. We have been in business in the area since 1980, so we can tackle any type of septic problem. Without proper drain field repair, you could be putting the environment at risk, so contact us today.
---
At Sauer Septic, we provide high-quality drain field repair services in Windermere, Orlando, Winter Garden, Apopka, Clermont, Ocoee, and all of Central Florida.